---

Air Force Space & Missile Museum rolls out restored Navaho missile
Released: Jul 10, 1998
---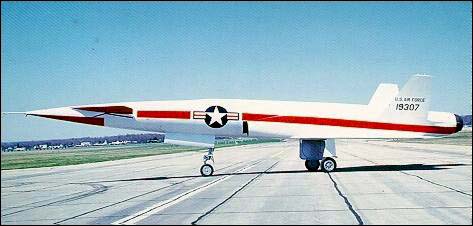 The X-10 was a supersonic research test vehicle designed to obtain advanced aerodynamic design data to be used in the development of the North American SM-64 "Navaho" ground-to-ground missile system. Since it carried no pilot, the X-10 was radio controlled by a ground operator during its takeoff, flight and landing phases. (Courtesy photo)



CAPE CANAVERAL AIR STATION, Fla. (AFNS) -- The Air Force Space and Missile Museum is rolling out the only Navaho missile in existence July 13 at 9:30 a.m. After a two-year restoration effort to repair damage from corrosion, the Air Forces "Know How" missile will be on display at the museum later this summer.
Eleven Navaho missiles were launched from the Cape between 1956 and 1958. Designed and built by North American Aviation Inc., the Navaho was being developed as a supersonic intercontinental cruise missile. The program was canceled in July 1957 when the Atlas Intercontinental Ballistic Missile was chosen over winged missile designs.
Riding piggyback, the Navaho left the launch pad like a rocket. Upon reaching the proper altitude and speed, the winged missile separated from the booster and flew under the power of its twin ramjet engines. It could fly to a designated target or attempt a return to the Cape, landing on the skid strip.
Although the Navaho program was canceled before the missile became operational, test launches resulted in numerous technical advancements. The inertial guidance system developed for Navaho enabled the USS Nautilus to be the first submarine to travel under the polar ice cap.
In his book, "The Navaho Missile Project," James Gibson said, "The X-10 test drone was the first turbojet powered vehicle to exceed Mach 2. Later, the G-26 ramjet powered vehicle became the first jet aircraft to reach Mach 3 and an altitude of 77,000 feet. Even the Navaho booster set a record by producing 405,000 pounds of thrust -- a benchmark that would last five years."
According to Gibson, "The Navaho program is the least known, yet the most important of the United States early missile programs. In rocket technology alone, the Navaho made possible Thor, Jupiter and Redstone missiles. It also allowed construction of the Atlas ICBMs, and in the years to come this engine would power the Apollo moon rocket and our present-day space shuttle."
Another less flattering name given to the Navaho is "Never Go Navaho," because so many launch attempts were delayed due to technical problems. Even so, the program advanced the science of aviation and space flight unlike any other.
"On July 13, exactly 41 years to the day when the Navaho was canceled, the only remaining Navaho will be rolled out from the hangar where it has been undergoing restoration for the past two years. Later this summer, the missile will be brought back to the museum and put on display for all to see," said Emily Perry, museum director. (Courtesy 45th Space Wing public affairs office)

RELATED SITES

* Space and Missile Systems Center
* The Air Force Space and Missile Museum