---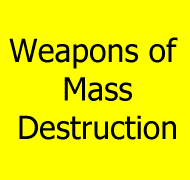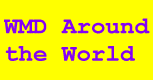 ---
Sevmorverf (Sevastopol Shipyard)
Branch of  Sevmorzavod (Sevastopol Marine Plant) joint stock company 
Sevastopol, Crimea, Ukraine 
Tel: +380 692 52-41-50 
Fax: +380 692 36-64-81 

Sevmorverf (Sevastopol Shipyard) is engaged in the repair, modernisation and re-equipment of Navy ships and submarines. It also does construction of marine self-propelled floating cranes and hardware vessels for naval purposes; production of desk equipment, heat exchange equipment, filters; repair and re-equipment of civil vessels with dock works complex. The yard is a modern equipped enterprise with a work force of some 4,000. The management is made up of experienced and resourceful engineers, economists, and financiers. The first structures of what would be the Sea Works appeared on the shores of the Akhliar Bay more than two centuries ago. Today's Joint Stock Company SEVMORZAVOD is a capacious modern shipbuilding and repairing enterprise operating three dry docks, a slipway tor assembly of floating crane hulls and ships, specialized shops and production sections, capacious warehouses, fitting-out embankments, and every other facility to secure the ship's vital systems and units. Two centuries of production experience suffice to tackle repair, docking and reequipping vessels differing in design and designation, up to 280 meters in length, 34 max width, and 10 m in draught. Over the past five years 33 foreign ships have been repaired here, and the first stage of reequipment has been completed on the vessel proudly bearing the Atlantic Blue Ribband, THE UNITED STATES.

The company has built more than 70 self-propelled floating cranes which are effectively used at ports on the Black and the Mediterranean Sea at Cuba, China, Indonesia, Vietnam, at the Baltic, at the North and East of Russia. The slipway's capacities allow construction of vessels measuring up to 110x27 meters. The assortment of onboard equipment is variegated, including windlasses, winches, coolers, heaters, condensers, filters, reduction gears, etc. More than 20 titles of consumer goods are in serial output, among them sets of office and kitchen furniture, prefabricated metal structure garages, household heating boilers, tents, knapsacks, etc.
| | | |
| --- | --- | --- |
| ¹ docks | Overall dimensions, m | Portal crane, lifting capacity, t |
| L | B | H |
| | | | | |
| --- | --- | --- | --- | --- |
| 1 | 290,0 | 36,0 | 11,0 | 1x80, 1x10, 1x30, 1x16 |
| 2 | 173,4 | 25,8 | 9,1 | 2x10 |
| 3 | 152,0 | 25,8 | 8,1 | 1x10, 1x16 |
All mooring wharves, with a length of 1500 meters, and docks are ready to provide repairedships with fresh water, water for fire system, pressed air, steam, power supply and telephone connection. The yard is ready to fulfill following customer orders:
- replacement of defected parts or parts which will be under conversion or modernization;
- hull and rooms blasting and high pressured cleaning and painting ;
- rudder, propeller, shaft line repairing with head rudder, propeller shaft and intermediate shafts turning;
- main machinery and auxiliary machinery repairing;
- ship equipment and furniture repairing and replacement;
- repairing of electrotechnical parts of ships with main and local cable runs renewal if necessary ;
- repairing of systems, pipelines and ship fittings;
- recovery of worm parts by gas thermal and detonation spraying;
- crankshaft neck grinding;
- high pressure air pipeline and other ship pipes chemical cleaning, other works.
There are foundry and smithy shops and all necessary production equipment at the yard's disposal. Sevmorzavod (Sevastopol Marine Plant) is located on the southwestern Crimean coast. It was founded in 1783, together with Sevastopol, on the banks of a bay described in historical documents as "unmatched in Europe by location, size and depth". The Plant occupies three production sectors alongside the Sevastopol Bay. Sevastopol is located on a southwest extremity of a Crimean peninsula.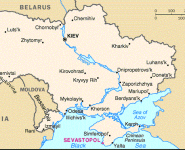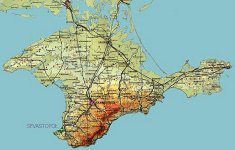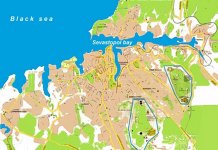 Sources and Methods
---
---
http://www.fas.org/nuke/guide/russia/industry/61communards.htm

Maintained by Webmaster
Updated Thursday, August 24, 2000 8:50:22 AM