---
People's Liberation Army
Air Force
---
Jiang Zemin's Short Message to Air Force
11 November 1999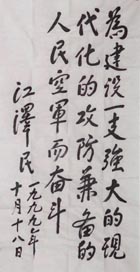 Chinese President Jiang Zemin recently wrote an inscription for the 50th founding anniversary of the Chinese People's Liberation Army (PLA) Air Force, which falls on November 11.

Jiang is also general secretary of the Communist Party of China (CPC) Central Committee and chairman of the Central Military Commission (CMC).

Jiang's inscription reads, "Strive to build a powerful, modernized People's Air Force that is capable of both attacking and defending."

The primary mission of the PLA Air Force is the defense of the mainland, and most aircraft are assigned to this role. A smaller number of ground attack and bomber units are assigned to interdiction and possibly close air support, and some bomber units could be used for nuclear delivery. The force has only limited military airlift and reconnaissance capabilities.

The PLA's overall concept of operations is "Peoples War under Modern Conditions," which consists of tactical offensive actions in support of a basically defensive strategy. The primary land component strategy is forward presence and perimeter defense, with offensive operations intended to wear down an enemy which is on the offensive and attacking. In this context, the role of the PLAAF is to provide homeland air defense, to direct support to the PLA ground forces. Air defense operations are primarily focused on surface to air missiles, with additional emphasis on counterattacks against enemy bases. The PLAAF's primary objectives would be to prevent the enemy from interfering in the PLA ground forces, with second objectives to conduct Close Air Support (CAS) and Interdiction operations.

Chinese pilots saw considerable action in the Korean War and, to a lesser extent, during the Taiwan Strait crisis of 1958. During the China-Vietnam border conflict of 1979, the Chinese avoided air battles, probably at least partly because they lacked the confidence to challenge Vietnam's air force, which though far smaller was better armed and trained.

In the 1980s the Air Force made serious efforts to raise the education level and improve the training of its pilots. Superannuated pilots were retired or assigned to other duties. All new pilots were at least middle-school graduates. The time it took to train a qualified pilot capable of performing combat missions reportedly was reduced from four or five years to two years. Training emphasized raising technical and tactical skills in individual pilots and participation in combined-arms operations. Flight safety also increased.

Nonetheless, the PLAAF combat potential remains constrained by the notoriously poor training of Chinese pilots. Bomber pilots typically fly approximately 80 hours a year; fighter pilots 100-110 hours; and ground attack pilots 150 hours. In the United States, flight hours per Primary Authorized Aircraft are consistently in excess of 300 hours per year. Pilots in operational units do not get enough flying practice to maintain a high state of readiness, nor do they have adequate opportunity to practice new tactics demanded by advanced aircraft. All-weather and over-ocean navigation skills required of pilots in advanced countries are poorly developed in the PLAAF. Although pilots use simulators, these are of very basic design and do not compare to those used by modern Air Forces. The PLAAF's training of logistics personnel remains a shortcoming, and weak logistics contributed to the limited utilization of air power in the Sino-Vietnamese conflict of 1979. Logistics within the PLAAF remains a challenge, and through the mid-1990s almost all movement of spares and supplies was by rail. More recently, in some instances large transport planes have been used to move support personnel and equipment in operational exercises. The Air Force Oil Research Institute has contributed to the development of a multifunctional aviation petroleum, oil and lubricant storage, supply and maintenance system.

The Soviet Union helped to establish the Air Force in 1949 and began to provide aircraft in late 1951. Production technology came two years later. By 1956 China was assembling F-4s (copies of MiG-15s) and eight years later was producing both the F-5 (MiG-17) and the F-6 (MiG-19) under license. Meanwhile, Soviet instructors were training the new pilots in Soviet tactics. The withdrawal of Soviet aid in 1960 crippled China's aircraft industry. The industry declined markedly through 1963, further hindered by the high priority accorded to the competing missile and nuclear weapons program. The aircraft industry began to recover in about 1965, however, when China began providing F-4s and F-5s to North Vietnam.

AIR FORCE INVENTORY
(selected years)

1952
1954
1958
1960
1963
1969
1970
1972
BOMBERS
TU-4
10
10
10
13
13
13
13
13
TU-16

--

--

--

2
2
2
13
32
IL-28
50
150
450
420
315
265
265
350
FIGHTERS
MIG-15*
400
700
1,015
1,850
645
265
195
170
MIG-17*

--

--

--

--

1,030
1,790
1,780
1,775
MIG-19

--

--

--

--

150
750
940
1,550
MIG-21

--

--

--

--

11
25

--

120
F-9

--

--

--

--

--

--

--

80
* MIG-15, MIG-17 totals consolidated for early years.
By the late 1980s the Air Force had serious technological deficiencies-- especially when compared with its principal threat, the Soviet Union--and had many needs that it could not satisfy. It needed more advanced aircraft, better avionics, electronic countermeasures equipment, more powerful aircraft weaponry, a low-altitude surfaceto -air missile, and better controlled antiaircraft artillery guns. Some progress was made in aircraft design with the incorporation of Western avionics into the F-7 (a copy of the MiG-21) and F-8 (an indigenous model derived from various Soviet designs), the development of refueling capabilities for the B-6D bomber and the Q-5 attack fighter, increased aircraft all-weather capabilities, and the production of the HQ-2J high-altitude surface-to-air missile and the C-601 air-to-ship missile.
Chinese aircraft modernization has followed four parallel tracks, none of which have entirely solved the twin challenges of improving the combat capabilities of individual aircraft while maintaining some approximation of existing force structure:
Mid-Life Updates to existing models, notably the J-7 "Super 7" and J-8IIM modifications which reworked the front end of the aircraft, adding a much larger radar and ventral air inlets, along with various other less pronounced improvements.
Indigenous development of new models, which has produced results ranging from the indifferent J-8 and Q-5 to the evidently problematic JH-7.
Domestic development of foreign designs, including the FC-1 derived from the abortive Russian MiG-33 and the J-10 based in some measure on the Israeli Lavi, with neither effort having born fruit after a decade of effort.
Importing and producing foreign designs, which despite considerable negotiating publicity has thus far resulted in the deployment of a few dozen Su-27s, with the promise of dozens more in coming years.
Within a few years the increasingly elderly Jian-6 fighters will be retired from military service, creating a substantial replacement problem. The efforts of the PLAAF to develop a low-cost replacement have not proven particularly successful, and the service life of the J-6 is almost certainly being extended beyond original plans as a result. With the PLAAF mainly composed of the Jian- 7, Jian-8, Jian-10, and Jian-11 [SU-27SKM] series, the overall quality of China's Air Force will be considerably enhanced, though the total number of combat aircraft will be substantially reduced.
China's airlift is largely obsolete, consisting of roughly 600 aircraft, some of which were inherited from the Nationalists. In a small step towards overcoming these shortcomings, China has acquired at least 14 large IL-76 transports from Russia.
China has acquired aerial refueling drogue systems from Iran. An Israeli firm [Bedek Aviation] has installed these on the Xian B/H-6D bomber/refueling tankers, and China has set up a training base in aerial refueling at Zhanjiang.
At least some reported Chinese modernization plans have evidently been abandoned. In May 1992 Russia agreed to supply China an initial batch of 24 MiG-31 long range interceptors. The MiG -31's were expected to be assembled at a factory at Shenyang, which would eventually manufacture as many as 200 MiG-31's. As of early 2000, there was no evidence that any part of this agreement had been fullfilled.
Sources and Resources
---
---
http://www.fas.org/nuke/guide/china/agency/plaaf-intro.htm
Maintained by Webmaster
Updated Wednesday, March 29, 2000 5:56:29 AM