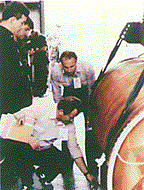 Soviet inspector reading weighing scales prior to Pershing II elimination at Longhorn, Texas.
As a consequence of these operational and treaty considerations, the U.S. elimination schedule for intermediate-range missiles saw bursts of activity, followed by periods of inactivity and preparations for the next series of eliminations. The United States eliminated the following INF missiles during the first three treaty years.

U.S. INF Missile Eliminations13

| | | | | |
| --- | --- | --- | --- | --- |
| | MOU Totals | 1988-1989 Eliminated | 1989-1990 Eliminated (cumulative) | 1990-1991 Eliminated (cumulative) |
| Intermediate-range INF Missiles | | | | |
| Pershing II | 234 | 34 | 106 | 234 |
| BGM-109 GLCM | 443 | 130 | 220 | 443 |
| Shorter-range INF Missiles | | | | |
| Pershing 1A | 169 | 169 | | |
During the third treaty year, 1990-91, the United States conducted eliminations at each of the four sites: Longhorn Army Ammunition Plant in Texas, Pueblo Depot Activity in Colorado, Davis-Monthan AFB in Arizona, and the U.S. Army Equipment Maintenance Center at Hausen, West Germany. At each elimination, OSIA escort teams remained with the Soviet on-site inspectors throughout the entire scheduled elimination. Usually, the escort teams consisted of 10 or more people, all of whom were knowledgeable about the treaty and its protocols. Their responsibilities included treaty clarification, direct communications with the Soviet inspection team, and logistics associated with housing, feeding, and transporting the Soviet inspectors.
By the end of the third treaty year, all of the U.S. and Soviet INF missile systems had to be eliminated. The final round of American eliminations began in Europe in mid-April 1991. By that time, the United States had eliminated 95.5 percent of its INF missiles and 95.9 percent of its INF treaty-limited items (launchers and support equipment). On April 16, at Hausen, the U.S. Army eliminated the final Pershing II launcher as a Soviet inspection team led by Colonel V.V. Yevdokimov monitored the destruction. Colonel Fred F. Grosick, USAF, led the American escort team. Dr. Joerg H. Menzel, the new principal deputy director of OSIA, served as a team member and was the senior U.S. government official at this final Pershing II launcher elimination in Europe.
Two weeks later, on May 1, 1991, the United States destroyed the last of its 443 U.S. Air Force ground-launched cruise missiles (GLCMs) at Davis-Monthan Air Force Base in Arizona. Colonel Anatoly Y. Samarin led the Soviet inspection team and Lt. Colonel Stephen B. Boyd, USAF, was the senior American escort. Because it was the final GLCM elimination, the final ceremony became a time of reflection.